Space Suits and Tugs
Artwork by Noel Sickles for Rocket to the Moon, LIFE magazine January 17, 1949. Note the built-in binoculars
SF author Ken MacLeod said that the specification of a human being is "a space suit for a fish." For a list of the parameters for a NASA spec space suit, go here.
Current NASA space suits have their drawbacks. They take forever to put on, they fight your every movement, and if you tear it you die hideously in about 90 seconds.
The only thing that allows an astronaut to bend their limbs at all is the magic of constant volume joints. These are why most pictures of space suits look like the Michelin Man (i.e., like a stack of donuts).
Taking a typical over-engineering approach, NASA has been looking into armored suits. These suits try to fix the tearing problem at the expense of making the first two problems much worse. True, hard suits do solve the depressurization problem, but at such a cost.
Photos courtesy of NASA
Artwork by Louis S. Glanzman for Tom Corbett: TREACHERY IN OUTER SPACE (1955).

Artwork by Fred Freeman for Collier's Magazine (1952).

Artwork by Noel Sickles for Rocket to the Moon, LIFE magazine (January 17, 1949).

Artwork by Alex Schomburg for The Mysterious Planet (1953). Note the shoulder section and "handles" on chestplate.
While wearing a space suit in vacuum, the iron-clad rule is The Buddy System. There are many mishaps that are trivial if you have a companion but fatal if you don't. Imagine that your suit springs a slow leak on your back just where you can't reach it with a repair patch. Oops.
In cases of emergency, two space suited people can "cross-connect" their oxygen supplies. This is generally done when one of them runs out of breathable gas, the other shares their oxygen until they get to shelter.
For strict safely, static lines or safety lines are mandatory. The spacecraft should have plenty of small steel rings bolted at regular intervals over the hull for spacemen to attach their safety lines to. Without a static line, a spaceman who manages to get both magnetic boots separated from the hull will suddenly find themself on a slow impromptu tour of the solar system. If their widows are real lucky the bodies might actually be recovered for burial.
Another useful item is a "line throwing gun". This allows one to shoot a safety line from one spacecraft to another. The line will have to be made of special materials, since most terrestrial ropes and cables will turn glass-like and shatter in vacuum.
Diagram courtesy of NASA.
Things get real nasty if the ship is a tumbling pigeon or otherwise rotates to provide artificial gravity. The poor EVA spacemen have to swing from hand-hold to hand-hold like trapezes artists. From their viewpoint, the spacecraft is overhead and below is a long fall to infinity. For details read Heinlein's short story "Ordeal in Space".
The Other Side of the Sky by Arthur C. Clarke. Artist unknown.

Race To The Stars edited by Leo Margulies and Oscar J. Friend. Artist unknown.
They may also need a "beeper". This is a low powered radar the size and shape of flashlight, used to locate small objects nearby (like that zero-recoil wrench you let go of "just for a minute"). You wave it around until is starts beeping (heard over your suit radio). As you approach the object the beep rate increases.
Astronauts also have to watch what they say. There is no air in space, so unless you are touching helmets together, you cannot talk with others without a radio. But while speaking on Terra means your voice becomes fainter with distance, over a radio it will be loud and clear out to the limit of the radio's range. This means cursing under your breath or muttering behind somebody's back will not work. There might be several channels to allow a bit of privacy, or if several conversations are going on at once.
Some SF novels suggest that for privacy, two space suited people might turn off their raidos, and touch helmets. The theory is that the sound of the conversation will be conducted through the contact between helmets. However, others maintain that the area of contact will be so small (since the helmets are basically spherical) that no audible sound will manage to pass. In Poul Anderson's TAU ZERO, he says that instead astronauts will learn how to read lips.
Many SF novels have magnetized space boots to allow the rocketeers to adhere to the hull, but magnets do not work very well on hulls composed of titanium, aluminum, or magnesium. If one does have a ferromagnetic hull, it might be best to have magnets just in the boot toes but not the heels, to facilitate walking. These might be used inside the spacecraft's lifesystem, if you think those velcro footies used by the stewardess in 2001 are just too unmanly for words.
Once people are suited up, it does become hard to tell who is who. In Destination Moon, there were four spacemen, and each had a uniquely colored suit. Kind of like colored tooth-brushes. But this won't work if you have more than a few spacemen, er, spacepeople. The person's name stenciled in large letter across the front and back is a possibility.
In Piers Anthony's The Kirlian Quest, he notes that this problem has occurred before: knights in armor are similarly anonymous. The solution is coat of arms and heraldry. When a proposed heraldic "device" (coat of arms) is submitted to the college of heralds, it is compared with all existing devices. The new device must have at least one major and one minor point of visual difference from those already registered. Otherwise it would be too easy to confuse the two devices in the heat of battle. Mistaking a foe for a friend could be fatal.
The Madonna of Port Lligat by Salvadore Dali.

Bookcover of Protector by Larry Niven. Artwork by Donato Giancola.
In Larry Niven's Protector, the Belters of the asteroid belt spend most of their lives inside their space suit. They have a tendency to paint their suits in extravagant colors. One of the characters had Salvador Dali's Madonna of Port Lligat on the front of their suit. In an interesting psychological quirk, Belters also tend to be nudists when in a pressurized environment.

As one adds more gadgets and attachments to a space suit, it gradually morphs into a tiny spaceship. It starts with spring-loaded broomsticks and picks up speed with the addition of tiny attitude jets and maneuvering rockets. As a parallel development, a rocket engine with a skeletal frame to hold astronauts is the first "space taxi". When a space suit is massive enough that one climbs into it instead of putting it on like clothing, equipped with mechanical arms and waldoes, you suddenly have a space pod. Then if the pod grows to the size of a baby spaceship, but with massive over-sized engines, you finally have a space tug.

Men on the Moon ed. by Donald A. Wollheim, 1958



And in Clarke's "The Haunted Spacesuit" aka "Who's There?" they chant "FORB" for Fuel, Oxygen, Radio, Batteries.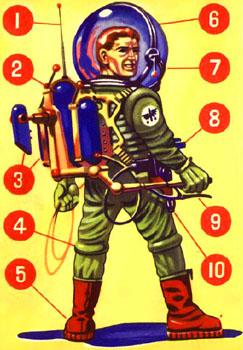 Have Space Suit - Will Travel by Robert A. Heinlein, artwork by Ed Emshwiller, 1958

Have Space Suit - Will Travel by Robert A. Heinlein, artwork by Ed Emshwiller, 1958

Artwork by Jack Coggins (1952)
Artwork by George Solonevich (1961). Note the binoculars/range finder mounted stalks.
The Ship From Outside by A. Bertram Chandler, 1963

Artwork by Jack Coggins (1952)

Artwork by Alex Schomburg, 1953
I noticed a couple of pulp covers with skeletons in spacesuits. So I looked on Google image search. I had no idea it was such a wide-spread meme.
Artwork by Angus McKie (1979)

Poster for movie Def-Con 4 (1985)

"The Madness of Mission 6" by Travis Pitts. What the game Pac-Man was really about. Waka-waka those power pills. Note Atari logo on sholder.

Artwork by Steve Fabian for The Alien Critic number ten (1974)

Artwork by Steve Fabian for The Alien Critic number Seven (1973)

Artwork by Ed Emshmiller. Cover for Startling Stories summer 1955. No space suit but close enough.

Artwork by Alex Schomburg. Cover for Fantastic Universe Science Fiction December 1954

Artwork by Darrell K. Sweet. Cover for Inherit The Stars by James P. Hogan (1977)

Artwork by John Harris. Cover for Inherit The Stars by James P. Hogan (1988)

From Doctor Who episode "Silence in the Library". Image courtesy BBC

Artwork by Davis Meltzer. Cover for The Falling Astronauts by Barry Malzberg (1971)

Artwork by Milton Luros. Cover for Future Science Fiction March 1953

Artwork by Michael Whelan. Cover for The Trouble With Tycho by Clifford Simak (1960)

Artwork by Davis Meltzer. Cover for Clans Of The Alphane Moon by Philip K. Dick (1964)

From Scooby Doo, Where Are You? episode Spooky Space Kook (1969)

From Moon Zero Two (1969)

Artwork by Earle K. Bergey, "inventor of the brass brassière". Cover for Thrilling Wonder Stories April 1948

Artwork by Karl Stephan. Cover for Terra Nr. 534

Artwork by Jim Burns

Unknown artist. Cover of The Omega Point by George Zebrowski

"Dead Astronaut", Wood sculpture by Brandon Vickard

Unknown artist

Y The Last Man, issue 15

Artwork by Al Feldstein. Cover of Weird Fantasy July 1953

Y-17 trauma override harness from game Fallout: New Vegas

Artwork by Ed Valigurski. Cover for The World of Robert A. Heinlein (1966)

"Final Frontier". Artwork by Randall Ensley (2002)

Dead Astronaut Figure. Created by Eddie Adyr (2013)